A book review? This is new!
I've never really talked about books on my blog before even though I
love
reading
*inner nerd shining through*
I'm sure there is a few of you who enjoy reading just as much as I do and would maybe like a new series to read? Well let me tell you about one of my favourites...
...The Butterfly Novels by Denise Deegan.
I've always enjoyed 'girly, teenage' books - you know the ones.
Boy meets Girl, Boy falls in love with Girl, some drama happens but then surprise surprise they end up together & everyone is happy by the last page.
So two years ago I saw
And By The Way...
(the first book in the series) in Waterstones and thought 'Great! A lovely little girly, teenage book - I have to buy it!'
And yes, it is a lovely little girly, teenage book
(have I used that phrase enough?!
) but it is so much more than that.
There is love and all that jazz but the trilogy also includes teen pregnancy, losing a parent, parents splitting up, bullying and death.
I definitely didn't expect it to be as... *hmmm what's the word* deep as it is.
There is substance to it.
I think the blurb for
And By The Way...
is very cheesy and honestly doesn't make the novel sound as good as it truly is.
The main characters are Alex, Sarah and Rachel - three sixteen year old best friends who attend an elite school in Dublin.
Each book is in the point of view of a different girl (
And By The Way...
is Alex's story,
And For Your Information...
is Sarah's and Rachel's is
And Actually...
All the girls play a huge role in every book though.)
It's difficult to choose but my favourite book in the trilogy is probably
And For Your Information...
So much happens in the 407 pages and I'm pretty sure I cried near the end.
I don't know, you connect so much with the characters and really start to care for them. It's like their lives become more important than your own!
I know I'm not really explaining the plot - I just don't want to give away too much (I feel like I already have!)
I've lent these books to a couple of my friends and they loved them too.
Have you ever stayed awake until 3am reading a book because you couldn't put it down?
There was just so much drama and 'I wonder what is going to happen next?' moments.
For me this was definitely the case with The Butterfly Novels!
To put it simply if you're a teenage girl & you'd love a good book with a bit of drama (think a more relatable Gossip Girl) then really these should already be in your shopping basket or downloading on your kindle.
What better way to escape reality for a little while?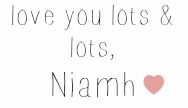 The Butterfly Novels Website (Which hasn't been updated in forever!) -
http://www.butterflynovels.com/
P.S Wondering why the books are called The Butterfly Novels?
Alex, Rachel & Sarah end their texts with a little butterfly symbol.
Honestly it doesn't play a big part in the books but now you know!