I am back with the infamous 'What I got for Christmas' post!
People either love it or hate it but I really wanted to put mine up after enjoying everyone else's.
I'm going to spare you the long introduction (just read
last year's one
for that) but obviously I am not bragging at all and I'm pleased as punch with everything I was given.
So here is a little look at what I got this Christmas...
My cousin Eimear (I know she is going to read this so hello you!) gave me
such
an amazing Christmas present - a huge soap&glory set. It's called the Yule Monty gift set and I am so in love with it. It came with
Hand Food, Heel Genius, Peaches & Clean Cleanser, The Righteous Butter, Sugar Crush Body Wash, The Scrub Of Your Life, Butter Yourself Body Lotion, Sexy Mother Pucker Lip Gloss
AND
Thick & Fast Mascara.
I don't think I will need to buy
anything
from soap&glory in 2014!
She also bought me one of those
mahoosive
galaxy bars but it was gone long before I took these photos...
My godmother's present was so thoughtful - not to sound cliche but it's very 'me'.
She got me the Rookie Yearbook One and it is beautiful. I know it is weird to call a book beautiful but this is the exception. If you don't know what Rookie is, it is an online magazine for teenage girls and the yearbook is basically a collection of articles from the website from that year.
I absolutely love Betty Crocker baking mixes (I blogged about one
here
.) They are so easy to make and taste so good. So I was really pleased when I unwrapped my presents to find a Betty Crocker brownie mix & a brownie maker - so cute!
We do secret santa in my family and my little sister got me for the second year in a row. And, just like last christmas, she bought me five Lush things! I got the
Christmas Eve
bubble bar, the
Christmas Penguin
bubble bar and
So White
,
Twilight
&
Cinders
which are bath bombs. Why is everything from Lush so pretty?
I am
really
looking forward to using them soon.
My big present this year was a canon EOS 600D. It is
such
an amazing camera and I love it
a whole lot!
The mittens, scarf and boots are from River Island as far as I am aware and they are lovely.
I asked for the Rookie Yearbook Two & I am really happy I got it - with both of the Rookie yearbooks I have so much reading to do.
I have used the macadamia oil shampoo & conditioner already and they have left my hair very silky and smooth.
If you read my
christmas day 2013
post then you'd know I watched We're The Millers on Christmas morning - and I found it laugh-out-loud funny. I also got the One Direction This Is Us movie and I am totally tempted to re-watch it now. It makes me extremely excited for May (I'm going to see them in Croke Park wooohooo)
Oh and I do gymnastics so that explains the glittery pink leotard.
I am
so
happy with everything I was given & I am extremely grateful too.
I know Christmas isn't about the presents but they make it that little bit better.
Let me know what you got for Christmas and if you did a 'what I got for christmas' post then leave a link to it below...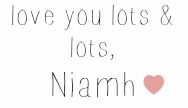 P.S I'm sorry for my awful vocabulary in this post! I'm sure you are sick to death of the phrase 'I love it!' or 'I'm in love with it!' or exclamation marks in general.
P.P.S Thank you Santa. You da bestest.