If you were looking forward to going back to school you probably forgot about this: Getting up at 7am.
How the weekends feel so short.
Homework. Exam stress.
And now that you have returned, let me guess, it's like you never left? Yeah. It sucks.
I've only been in school a week and already I've had
hours
of homework. It's not just the homework - since A Levels are such a step up from GCSEs you have also got to read over your notes to make sense of them and read ahead so you don't fall behind. It's exhausting.
That is why I think it's important to remember the little things that make you happy.
Remember
to read those YA novels.
Remember
to watch your favourite movies while eating chocolate chip cookies that you baked earlier.
Remember
to make yourself feel better by applying a face mask and dancing around to Taylor Swift.
Last night I watched Juno for the first time in years. I forgot how good it was - the acting, the soundtrack, the quirkiness of it. The other film I watched recently doesn't have as good reviews but is good in that 'it's so cliche and girly' way. It is, of course, Sex and The City. After binging on the six seasons of SATC earlier this year it was nice to 'catch up' with the characters in the movie. Both films I'd totally recommend if you need a two hour break to a fictional world.
Since I'm back at school naturally I can't read non-school related books as much but I try to read before I fall asleep. And currently on my bedside table is
Since You've Been Gone
. I happened upon it when I was buying books on Amazon (I'll forever be poor because I keep spending my money on new books) and it had really good reviews so I thought it would be worth a read. I am only on the first few pages but I love the concept of the book. Basically Emily's best friend Sloane has disappeared but she sent her a list of things she has to do over the summer... and Emily thinks if she completes the list that maybe Sloane will come back into her life. It sounds like a typical, girly book but I would be lying if I said I don't love them!
What girl hasn't bought a Montagne Jeunesse face mask before?
Well if you were anything like me you didn't know the name of them but just knew them as 'the face masks with women covered in fruit.' I remember buying them years ago in Claire's or Boots for sleepovers with my friends. The majority of them are only £1 and even if the mask does nothing for your skin (honestly I can never tell) just by applying it you feel all pampered and relaxed. I was sent this one to blog about and it did wonders for bringing down my stress levels and did leave my skin feeling smooth. It comes with a cleanser in the first half of it and in the bottom half there is the face mask. If you're in the need for a pamper evening you should pick up one - there are a huge variety of them and they won't burn a hole in your wallet.
So those are some of the things that have successfully been able to take my mind off of school.
School is not
all
bad though. I genuinely enjoy the four subjects I took on (so far!) and so going to class and doing the homework isn't
that
unpleasant. It's strangely quite nice. I remember for subjects like Maths and Irish, ones that I hated, I'd put the homework off until midnight the night before it was due or not do it at all.
Now I've got into the routine of starting my work half an hour after I get home because I am just not dreading it as much. Nevertheless the workload is insane compared to last year. Yay.
In summary:
School is hard, A levels are hard, life is hard therefore don't forget to indulge in the things that make it a little bit easier.
How are you finding school/work? What are the things that help take your mind off it all?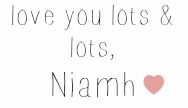 P.S You should go check out my friend grace's blog. It's called clothes and complexity and it is seriously good.