Who doesn't love a good christmas lush haul?
They're overdone, sure, but is it really christmas without one? (true meaning of christmas: overpriced bath bombs. obviously.) Truthfully I just haven't been feeling christmassy yet - I know that's not even a word but you know the feeling, right? I can't pinpoint exactly what it is but it's a mixture of cosiness, a cinnamon scent, festive films, fairy lights, baking, hot chocolate, family, late night shopping and being giddy like a child again - not much then. But that's the christmas feeling summed up for me. And I haven't completely got it yet. I've been trying. All our christmas decorations are up, I watched Frozen last night and right now I've got a cinnamon stick yankee candle burning on my bedside table... but nothing's working! Still, I'm hoping that a bath with these lush products will increase my excitement for December 25th.
Golden Wonder
is a firm favourite of mine that I've been buying every christmas for three years now. It's one of those bath bombs with a 'surprise.' You may think it'll leave your bath a gold colour but it dissolves into a teal blue (sorry if I ruined the surprise... but it's a bath bomb, come on!)
I bought
Father Christmas
because it looks so festive and I remember I really liked it last year.
Luxury Lush Pud
and
Star Light, Star Bright
are two Lush products I haven't tried yet. The latter is an extremely glittery bath melt. I've never tried a bath melt before so I'm looking forward to giving this one a go. Beware of how glittery it is though - with a touch the glitter will come off on to your fingers. The Luxury Lush Pud is so colourful and a lot of people seem to love it (hopefully I will too!)
I think something from Lush makes any christmas present better; you can't really go wrong with it.
What's your favourite from the LUSH christmas range?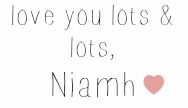 P.S I've got exams until the 17th so I might not be able to post until then... if you've got exams coming up as well, good luck!